Gifts for Cat Lovers
By Paige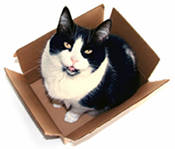 Now that we've gotten through most of the major winter holidays it's smooth sailing and time to spend a little of that holiday cash on something fun.
Just Because
You don't need a bank holiday to buy someone (or yourself) a little something special and we will continue to provide kitty gift ideas throughout the year (in case you want to stay ahead of the game). Today we are taking a look at a selection of general cat gifts, something for everyone. For each item we've added a link to where they can be found on Amazon and a closer look where available.

Some of them are useful, some of them are fanciful & still others are actually for your cat.
Still Looking?
If you didn't find what you were looking for, never fear there is plenty of cat out there to choose from. Be sure to look at some cat ideas for youngsters, cats in the bathroom cats in the kitchen and cat jewelry.