Cats in the Kitchen
By Paige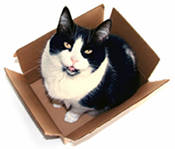 It's about that time of the year again, so if you are a last minute kind of person this post is for you. We've collected some of the coolest cat theme kitchen accessories ever.
Kitchen Kitty
We love having cats all around us, but it's all about being stylish. Here is enough of a selection of cat kitchen items to provide lively accents or if you want to cover your kitchen in cats entirely. For each item we've added a link to where they can be found on Amazon and a closer look where available.

There is a lot of cat here, even for the most discerning of decorators. We've collected a little something for every kitchen here.
Not So Appetizing?
If you don't like the idea of cats in your kitchen, there are plenty of other kitty gift ideas out there. Take a look at some cat ideas for youngsters, cats in the bathroom and cat jewelry.