Cats for Youngsters
By Paige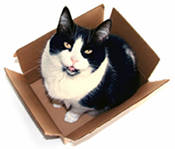 We're not saying the holidays are on the way (ahem, we are only hinting at it) by sharing all of our fun & fab cat theme gift ideas with our readers. We've been collection all year long & have some fun stuff in store for you.
Loving The Cat
It's easy to find things for cat lovers, but not all of them possess the inherent coolness of our feline friends. We tried to do them justice by hand selecting items based on their quality, as well as their 'cool' factor. For each item we've added a link to where they can be found on Amazon and a closer look where available.

Hey, we are just throwing gift ideas out there – what you do with them is up to you…
Not Even Done Yet
There is more to come so keep your eyes peeled for more great feline-friendly gift ideas. If you like these fun kiddy, kitty ideas, you may just love some Hello Kitty kitchen ideas.