It Turns Out Cats Love Horses
By Paige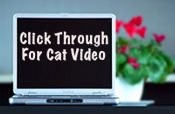 While it's no surprise to us (because we think horses are pretty awesome) cats really seem to have a thing for the large hoofed creatures.
Makes Sense
While it seems unlikely, it makes sense that the two would get along. The horse has no problem allowing kitty to be alpha and cats tend to be of the fearless sort.

A Strange Duo
If you liked these you'll love Even Cats Love Horses which features a bunch of fantastic images of this unlikely pair.
2 Responses to "It Turns Out Cats Love Horses"