More Kitties in the Kitchen
By Paige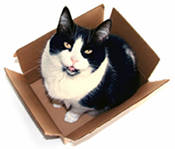 A few months back we featured a selection of kitchen accessories & appliances with a cat theme & some seriously cute Hello Kitty kitchen items and believe it or not, we've got even more to share with you today.
Does Cat Hair Make it Taste Better?
We're not so sure about our furry cat hanging out on kitchen counters (have you seen how they shed?) but we like the idea of kitty accents. Every idea below was hand selected by us for their usefulness & unique character. For each item we've added a link to where they can be found on Amazon and a closer look where available.

We're arming you with enough kitchen kitty to make your friends think you are a little cat crazy.
More Kitty
We like to shop so it makes sense that we'd share our shopping prowess with our cat-loving readers. Be sure to check out cats in the kitchen, Hello Kitchen & even some general gifts for cat lovers.