Bathroom Kitty
By Paige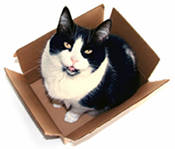 Lets face it, cat lovers generally want cats where ever they go & we are here to help them do it. With the holidays around the corner it's important to get good ideas wherever you can.
Helping You Help Yourself
In the weeks to come (and probably beyond) we'll be featuring cat theme products of all shapes & sizes. For each item we've added a link to where they can be found on Amazon and a closer look where available.

Each selection below was hand chosen for their quality and "cool cat" factor.
Too Much Hair?
If cats are too hairy for your bathroom, we've got plenty of other kitty gift ideas to share. Stay tuned in the weeks to come for more! For now be sure to go check out some Cats for youngsters.