Cat Jewelry
By Paige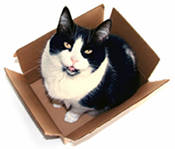 We all know how difficult it is to find animal theme jewelry without the cheese factor. Unfortunately cats are included in this, so we decided to track down some cool cat jewelry to share with you.
Kitty Bling
Many cat people like to keep some cat around them at all times & we can appreciate that so we wanted to help. The items below were hand selected based on their quality, artistic value & their lack of that cheese factor we talked about. For each item we've added a link to where they can be found on Amazon and a closer look where available.

We're all about keeping our animal jewelry as subtle & classy as possible. And yes, there are a lot of pendants but we think that's a great way to wear some cat!
Think of Others
We know there is enough cute stuff here for you, but have you thought about the other cat lovers in your life? If you can't help getting yourself a little treat along the way, there are plenty of great cat ideas, like cats for youngsters & cats in the bathroom.