Sneaky Cat
By Paige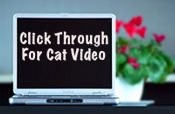 We run across a lot of great videos not from searching, but from our lovely friends on the various social networks and that's where we found this. Even if you've already seen it, we're pretty sure you'll watch it again.
Wait For It…
Ok, we know it starts slow, but this sneaky cat is worth the wait. Anyone who says that cat's don't have a sense of humor is sorely mistaken and has clearly never met one.


Silly Cats
When it comes to cats, most of it has been done to death online so we try to bring you unique and interesting stuff. Even if you've seen it we hope most of it will be worth a second glance. If you want more silly cats check out a series of cat ads set to the Swordfish soundtrack or our latest hero the scuba diving cat.