Cat Food Ads to The Swordfish Soundtrack
By Paige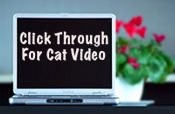 In our many cat flavored youtube searches we ran across this fantastic set of videos. There are five of them, each one created by the same guy – one who watches far too much tv.
Each video below is a commercial for cat food, made about a million times better by the dubbed Swordfish soundtrack. The guy who created them is convinced that you can replace the music in any cat commercial with a quite from the movie soundtrack…too funny.

Think it's True?
We're not entirely convinced, but the theory is great fun to watch. Be sure to check out some more cool video of cats riding things (like turtles).