Hello Kitty in the Kitchen
By Paige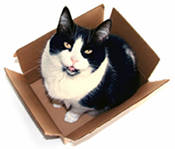 As we speed towards colder weather and shorter days it's time to start thinking about the holidays. It's never too soon to be prepared for what's to come so we've collected a number of fun cat theme gifts to share.
Why Hello Kitty
Hello Kitty is perhaps the most prolific cat around, she's literally got her paws into everything. We hand selected our favorite Hello Kitty accessories from avalanche out there based on quality & overall cuteness factor. For each item we've added a link to where they can be found on Amazon and a closer look where available.

This is one popular kitty and here are enough options here to find a few key accessories or turn your kitchen into Hello Kitchen.
Not Bringing it Up
We aren't going to do much about the holidays, our readers come from a global perspective and following the customs of just one religion seems unfair. We will continue to share fun cat gift ideas at any time throughout the year – just during this season a little more frequently for those who might find it useful.
One Response to "Hello Kitty in the Kitchen"