I Hate My Life – White Tigers Are NOT Natural
By Paige
Would you inbreed for a change of color?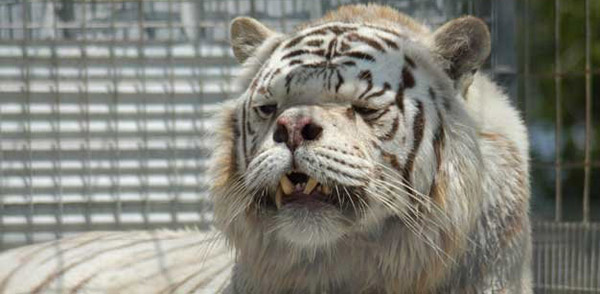 As we are doing our research for this website, we have come to realize the sad fact that even the kings of the animal world can be subject to animal abuse.

Playing With Mother Nature
These images really need no more words, they speak volumes. However the artist who drew the image below really knows her stuff and goes on to give an in-depth explanation about why white tigers are really sad business.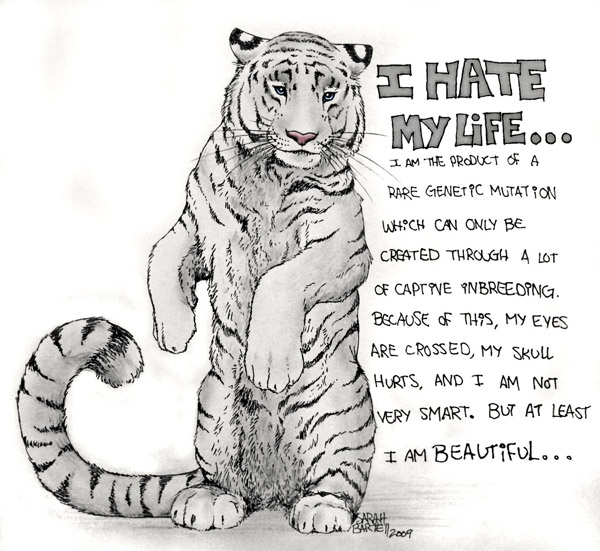 "The white gene is a double-recessive one caused mostly by inbreeding (in a natural mating, there is only a one in 10,000 chance that a tiger will be white), which is why they say that it exists 'only in captivity'. Zoos are not willing to wait for this one in 10,000 miracle tiger, and so find that the only other way to produce them is through inbreeding."
Wrong On So Many Levels
This is just an excerpt from the page, she goes into very specific detail about the problems associated with this type of breeding and it's effects on conservation efforts for tiger species. (White tigers aren't protected because their bloodlines are such a mishmash of species and genetics).
In fact, their breeding is discouraged and only done by zoos and circuses looking to attract more visitors.
Do it For The Tigers
We certainly hope that the drawing and image above is reason enough to make you avoid zoos that continue unhealthy breeding practices. Inbred animals live a sad life of confusion and pain.
In short, their whole life is abuse.
Boycott zoos with white tigers. In fact, we are well on the way to telling you to boycott zoos altogether.
*Update – this video is worth a watch

67 Responses to "I Hate My Life – White Tigers Are NOT Natural"